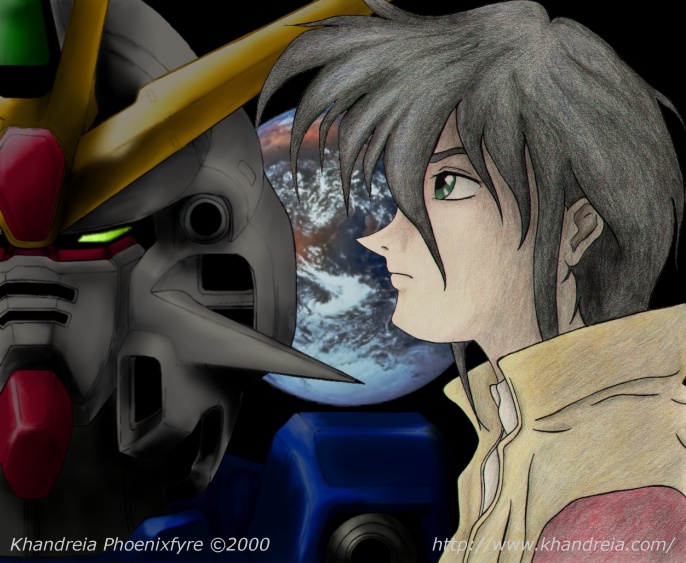 Garrod Ran: Little Boy Lost
This was my very first GX fan art piece, so who better for the subject to be than the lead character and one of the Gundams he pilots?
The images of Garrod and Double X were drawn on separate sheets of paper, with the line art for the Gundam (based on the cover of the third soundtrack) being scanned in for the CG treatment. The CG-ing on this was a new technique I had tried out to get a more 3-D look, and I'm very pleased with the results. However, the image of a rather contemplative Garrod (based on part of the show's original opening credits sequence and an itty-bitty picture featured in the first soundtrack liner notes) was colored in by hand. After that, I scanned it in and placed it into the same picture as Double X. But why the title of "Little Boy Lost"? Well, in the series, Garrod was orphaned at a very young age and had been wandering from place to place until he discovered the GX-9900 and the crew aboard the Freeden, that and the fact that the other characters often comment that while Garrod may still want to remain a boy, that adult side is slowly starting to show itself. You know what I find strange about this drawing? Despite the fact that Gundam X is one of the least-liked Gundam series, this picture of mine has become hugely popular wherever I show it off. Just days after first sending it in there in 2000, it was already the second-highest ranked picture in Gundam.com's fanart gallery, and a year later it was still popular, remaining in the #1 position for a long time before someone gave it a bad score and knocked it out of the top 25. -_-; But still I wonder if it's popularity, despite so many other pieces I've done since this that I think are much better, has something to do with that one award as well as a very small version of it being shown on Gundam Shop's main page to advertise their fanworks contests. Go figure . . .